** Come to class online! Join me LIVE on Wednesday, May 31st, at 1pm U.S. Eastern Time (UTC -4). Explore the current class schedule. **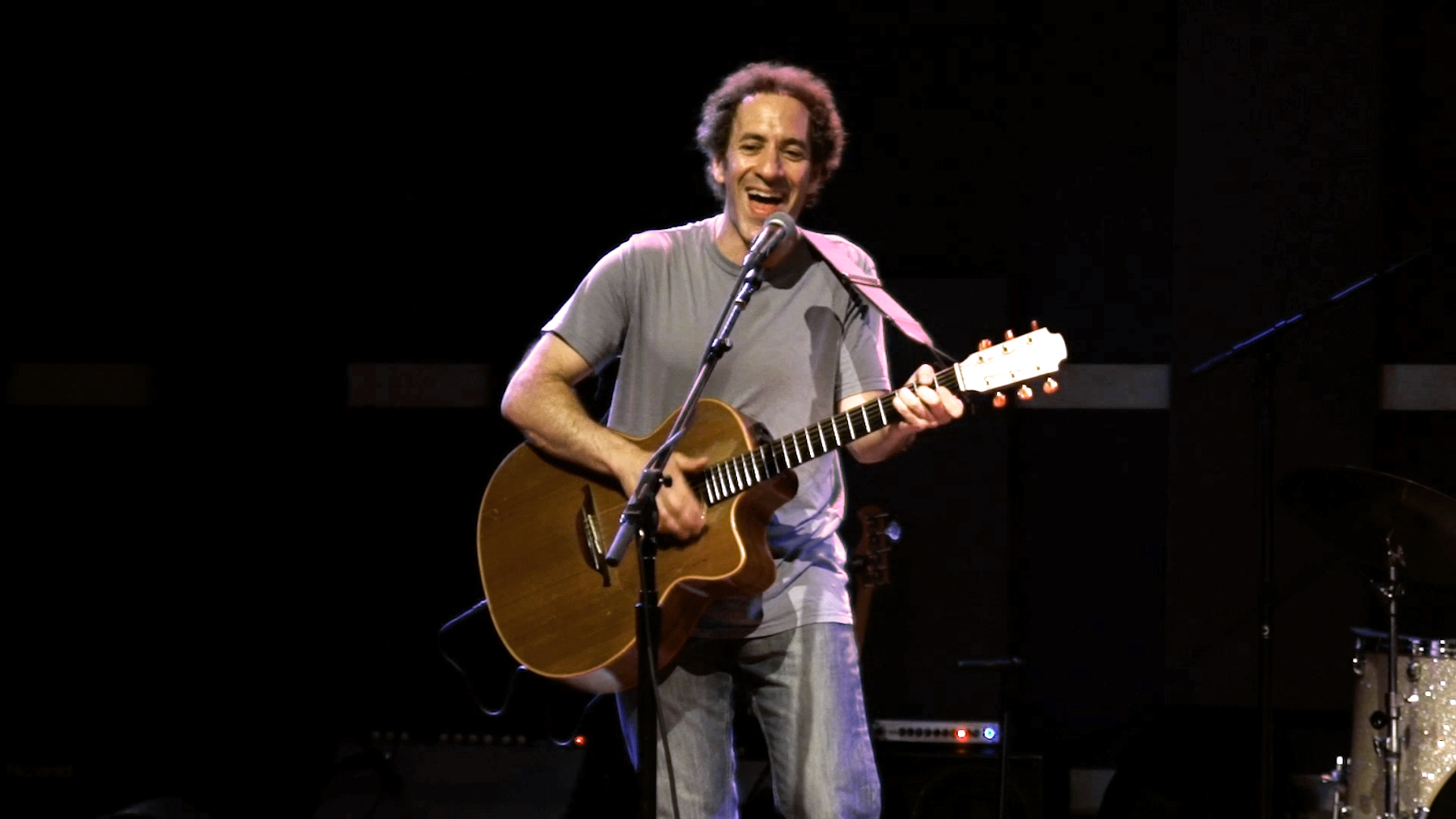 I'm Jay Sand, musician, children's music teacher and very proud dad of three daughters. I live in Philadelphia where I teach All Around This World global music and world cultures classes to children in my neighborhood. Because of this thing they call the Internet, I can also teach you and your kids anywhere!
"Scattered Among the Nations" is an interactive music course for little kids (infants to nine year-olds) and their grown-ups that features Jewish music from five continents. In this course, I, All Around This World founder and lead teacher, Jay Sand will take you and your children on a worldwide tour, exploring the exciting global diversity of Jewish people and culture. In this course I will will teach you and your children songs Jewish people sing in Africa, Europe, Latin America, South and Central Asia and the Middle East. 
Scattered Among the Nations includes songs Jewish communities that are scattered to the all corners of the globe, exploring "Jewish" culture and history with grown-ups while sharing diverse, developmentally appropriate hands-on music with little kids. Together we sing, dance, and learn so much without even knowing we're learning!
Note: While "Scattered Among the Nations" uses music Jewish people sing in their communities as a way for you and your children to take a global tour you don't have to be Jewish to enjoy it — all families are welcome. The class isn't "religious," doesn't assume any knowledge of Jewish history or culture, and doesn't favor or promote any one Jewish denomination or way of life.
THE MUSIC IS GOOD! You will learn 25 songs from around the Jewish world. "Ale Brider" (Eastern Europe) | "Attah Magenu" (Nigeria) | "Az Der Rebbe" (Eastern Europe) | "Avre Tu Puerta" (Iberian) | "Ay Di Di Di Dai" (Israel) | "Bihateetu" (Ethiopia) | "D'ror Yikra" (India) | "Eli Eli" (Israel) | "Hija Mia" (Andalusian) | "Fishalach" (Yiddish) | "Fuerame a Banar" (Morocco) | "Kad Ja Podjoh" (Bosnia) | "Kayvoni" (The Caucasus) | "Ma Navu" (India) | "Mayim" (Israel) | "Mwari" (Zimbabwe) | "Nigun Simcho" (Eastern Europe) | "No Pashesh" (Aegean) | "Sar Hamemuneh" (Yemen) | "Shir Hama'alot" (Israel) | "Taralilalalai" (Bukhara) | "Tulo Tulo" (Uganda) | "We Are Happy" (Uganda) | "Zamru" (Israel)
THE CULTURAL EXPLORATIONS ARE GOOD! In this course we will GREET GUESTS like the Ancient Jews | CELEBRATE SIGD with Ethopia's Beta Israel | LEARN A PARTHIAN DANCE from Jewish Persia | MAKE FRIENDS AT MIMOUNA in Morocco | CELEBRATE IN COCHIN with the Jews of India | EAT SWEETS IN IZMIR while learning Sephardic customs | LEARN BULGAR DANCING Klezmer-style | DANCE THE KLEZMER CHA CHA CHA in Jewish Latin America | LEARN AHAVAT HADASSAH and Israeli Dancing | ENJOY A BAR MITZVAH CANDLE LIGHTING CEREMONY in the U.S. | SING LIKE THE ABAYUDAYA in Uganda
**
HOW DOES THIS WORK? YOU decide the best balance for your family. If you would like to primarily learn through the "Scattered Among the Nations" course materials introduced on this page, enroll for the course through this site. Enjoy all the "Scattered Among the Nations" lessons any time!
When you enroll I'll be in touch to offer to sign you up for the Explore Everywhere "All Access Pass" e-mail list. When you join that list, each week I'll send you a Zoom login to access that week's livecast class. You are welcome to "come to class" each week to sing and dance with me. We may not be singing Scattered Among the Nations songs in our livecasts this season, but I guarantee fun.
Tuition details are on the registration page. Questions? Be in touch.
REALLY SUPER-SPECIAL LIMITED TIME OFFER
If you pay full price for this course, (and you live in the continental United States) you'll receive your very copy of the truly extraordinary Scattered Among the Nations photograhpy book. The book is BEAUTIFUL, and I'm not just saying that because I'm one of the authors. It also retails for $60 and is really heavy, so shipping must cost a ton. In other words, getting the book and all the course material for the usual full price of the course isn't a bad deal.
Bryan Schwartz, the book's primary phtograhper/author, has also generously allowed me to share a lot of his text from the book throughout this course. You win both ways.
Some details about the offer are in the pricing section below.