** Come to class online! Join me LIVE on Wednesday, June 14th, at 1pm U.S. Eastern Time (UTC -4). Explore the current class schedule. **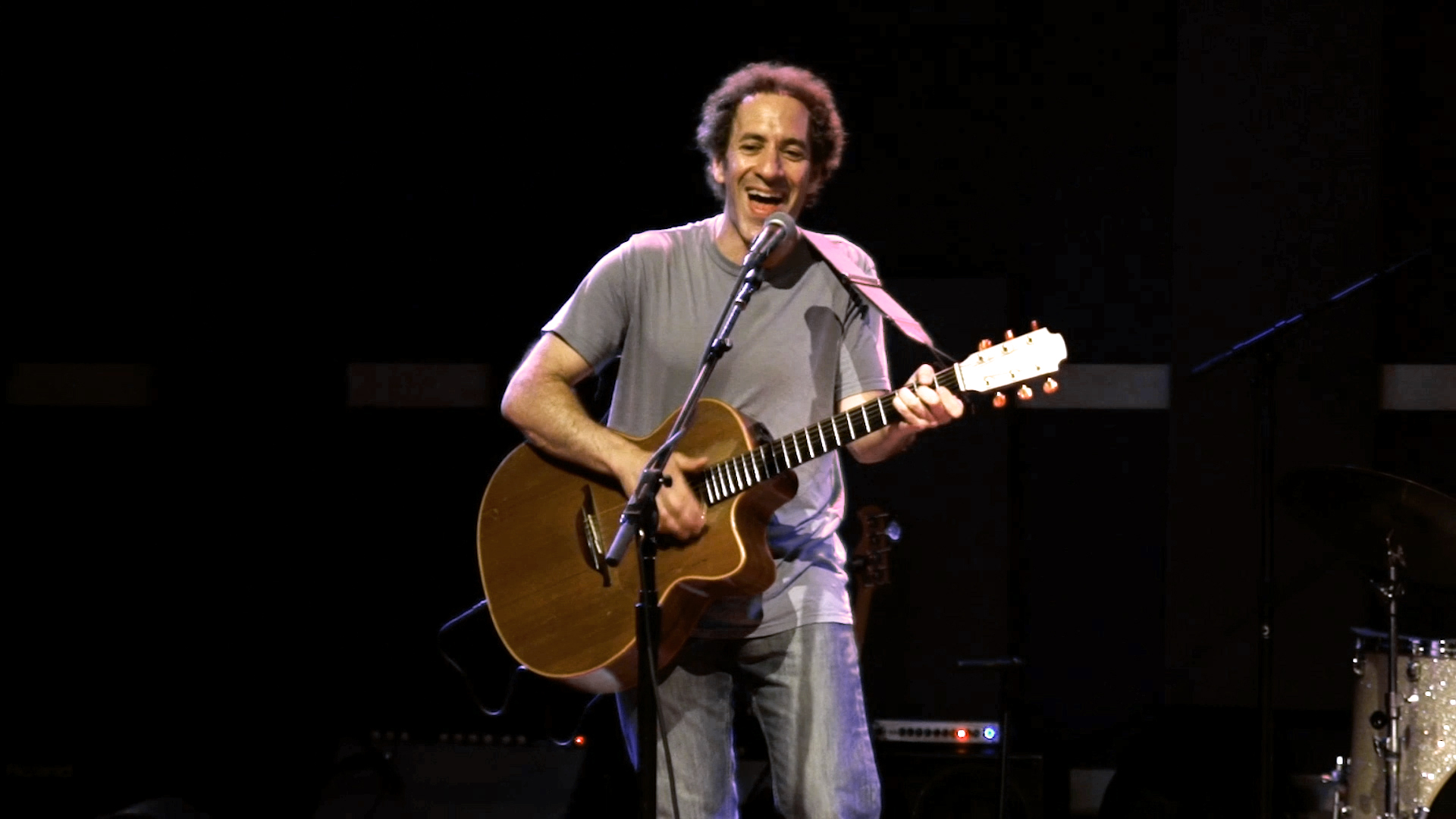 I'm Jay Sand, musician, children's music teacher and very proud dad of three daughters. I live in Philadelphia where I teach All Around This World global music and world cultures classes to children in my neighborhood. Because of this thing they call the Internet, I can also teach you and your kids anywhere!
This season we explore music from the United States and Canada, most of which is in English. Of course we take music from the U.S. and Canada and turn it on its ear, learning about as many of the many multilingual and multicultural musical genres that either formed or came into focus in the U.S. and Canada–jazz, blues, rock, disco, salsa, cajun, etc.–while paying particular attention to their global origins. We sing conjunto songs from Texas and note their Mexican and German roots, we'll trace Louisiana Cajun music back to its Acadian origins in eastern Canada, we'll look back to Mali to find blues and we'll travel back across the Bering Strait land bridge to meet great great grandparents of Native American music.
If you're not in an All Around This World classroom but instead you're following along at home, you can still enjoy our lessons about Canada and the United States of America for kids:
— Native American and First Nations music: we bring rain with a Hope snake dance.
— Cajun/Creole: we stay up all night dancing the cajun two step at a fais do do.
— Conjuno/Tejano/Waila: We scratch like chickens as we dance waila
— Folk/Country: we promenade our parters in a traditional square dance, then of course we do-si-do
— Hawaiian: we mellow out in the islands with some slack hey guitar
— The Blues: 12 bars is all you need
— Jazz: first we scat, then we swing dance
— Salsa: we visit both NYC Puerto Rico at once as we turn up the sizzle to dance salsa
— Disco: it's fun to stay at the Y – M – C – A!!
— Hip-hop: we end with windmills, helicopters and some delightful old school rap.
No one will be turned away from All Around This World courses due to lack of funds. Discounts and scholarships are available! Check out the pricing secton below for details. Bottom line: if you want to sing with me, we'll make it happen.
Enjoy!!
**
HOW DOES THIS WORK? YOU decide the best balance for your family. If you would like to primarily learn through the "KIds Explore the U.S. and Canada" course materials introduced on this page, enroll for the course through this site. Enjoy all the "Kids Explore the U.S. and Canada" lessons any time!
When you enroll I'll be in touch to offer to sign you up for the Explore Everywhere "All Access Pass" e-mail list. When you join that list, each week I'll send you a Zoom login to access that week's livecast class. You are welcome to "come to class" each week to sing and dance with me. We may not be singing songs from the U.S. and Canada in our livecasts this season, but I guarantee fun.
Tuition details are on the registration page. Questions? Be in touch.