Overview: "AccordiOn and On and On"
Connecting the Dots -- AccordiON and On and On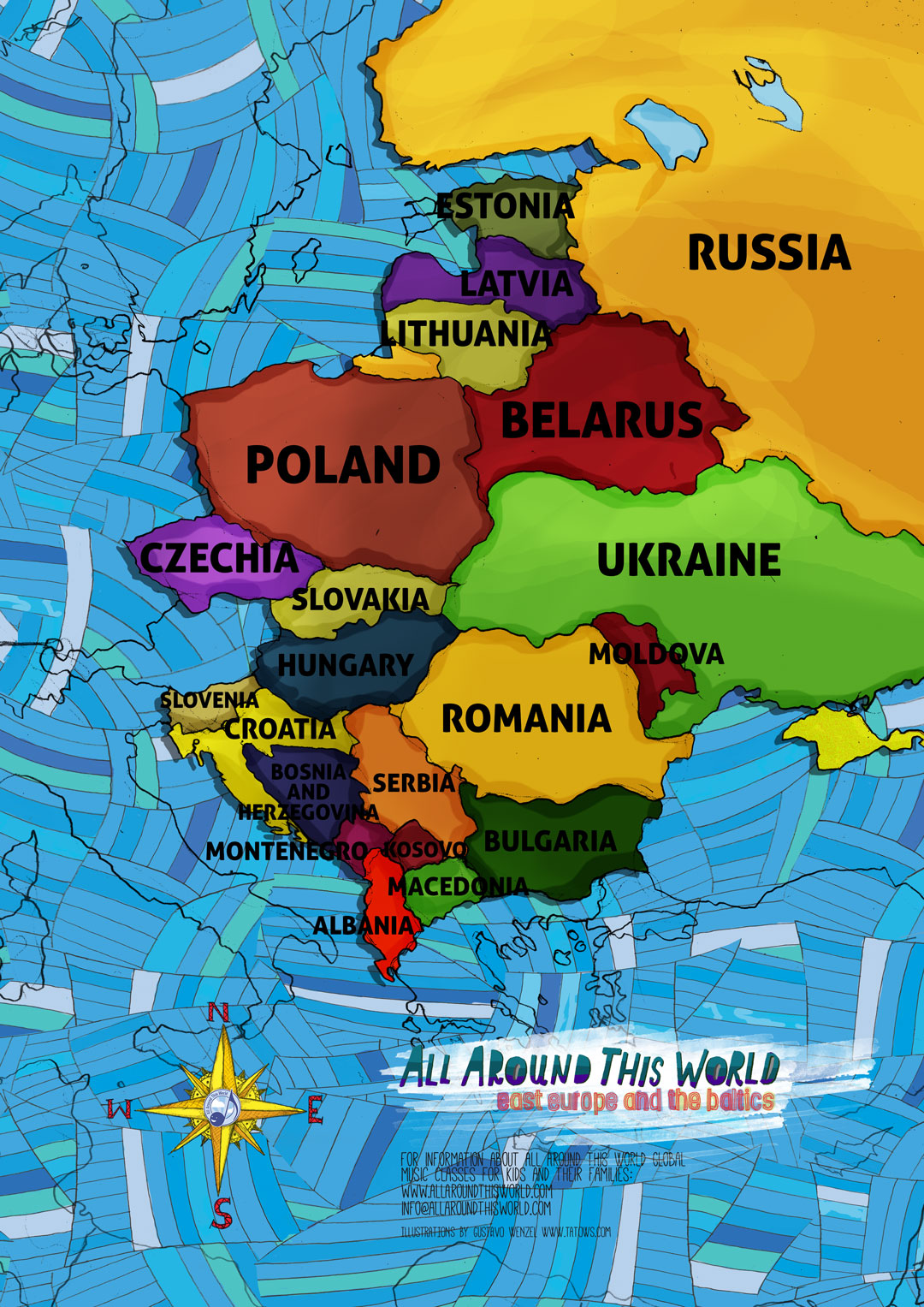 The accordion is a "squeezebox" that creates a sound when a musician squeezes air out of the BELLOWS across reeds. Accordions vary in construction but all have buttons or keys, much like a piano keyboard, that the accordionist uses to play the melody.
The first accordions appeared in the earliest 20th century in Germany, Austria and Russia and quickly became a staple of several genres of folk music. Portable and versatile, this "people's instrument" traveled readily with European emigrants as they settled worldwide.
"The golden age of the accordion" in the United States lasted from 1900 until approximately 1960, when popular rock and roll bands that favored guitars became all the rage. The accordion never fell out of favor in traditional music though, both in Europe, where accordionists lead ensembles that perform in almost every folk genre, and in the U.S. where Cajun and Zydeco accordions thrive. 
This week in class: 
-- We sing "We Are Happy," a hello song from Uganda, to open every All Around This World class. This week we sing hello in Romani -- "Latcho dives."
-- "Dilmano Dilbero" is a playful pepper harvest song from Bulgaria (More.) 
-- "J'ai Passé" is a popular traditional Cajun song from Louisiana. It's the sad tale of someone who goes to visit a true love but finds the love has passed away. FUN! (More.)    
-- "Amari Szi Amari" is a song that is a favorite in Romani communities around Europe, especially during weddings. In it the family welcomes a new daughter-in-law and implores the patriarch to do a dance to get the party started. (More.) 
-- "Lu Core Meu" is an Italian "Pizzica d'Amore," a playfully competitive courtship dance, traditional in the Salento region which is located in the "heel" of Italy's "boot," whose moves simulate madness after being bitten by a tarantula. (More.) 
A LITTLE MORE
POLKA is one of the music genres most readily associated with accordions. While the polka actually originated in the Czech land of Bohemia and became popular when Viennese composers wrote polkas in the 19th century, the Poles adopted the dance and made it the centerpiece of many popular cultural celebrations. 
Today you can find a place to polka in most large cities around the Western world, and not just in traditional Polish beer halls. Polka music is both contagious and ever-adaptable; check out this comprehensive modern polka CD review site to see what's new in polka. There are so many kinds of polka in the U.S.: Polish-American (Chicago-style and Eastern-style), Slovenian-American, Czech-American, Mexican-American and the Papago Pima, a German/Arizonan/Native American polka in sometimes called "the chicken scratch."
-- Learn how to dance the polka: "the polka's gonna get you hand-clappin' and toe-tappin' one two three, just like that."  
-- Happy 50th Anniversary Betty and Merlin!
Enjoy!
Complete and Continue