Overview: Let's Meet Uruguay
This Week We Visit Uruguay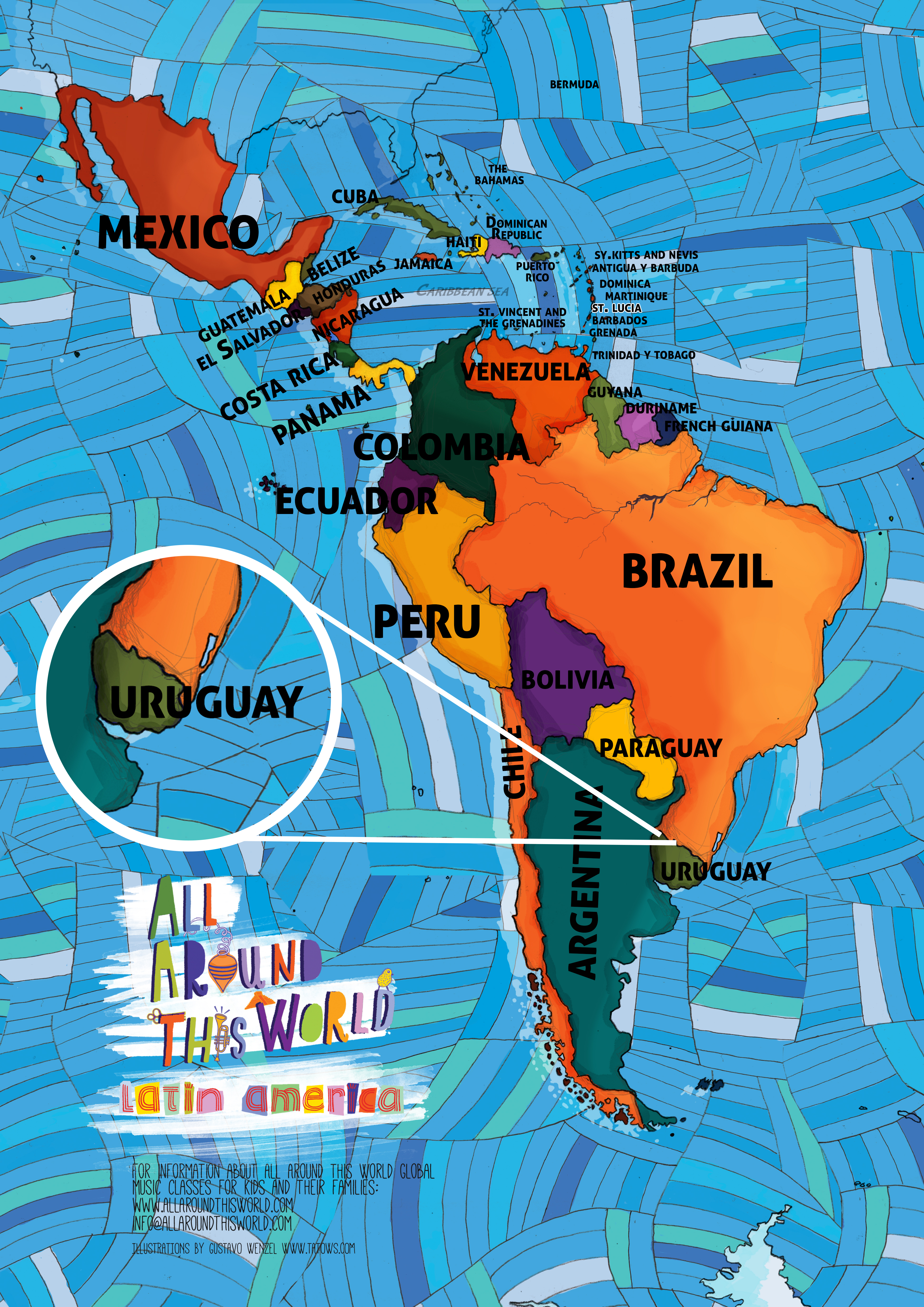 This week in music class we enjoy Uruguay, a country on South America's Atlantic coast that may very well have it all. Uruguay may not have a lot of big-name recognition in the U.S., but since emerging from years of military rule in the '70s and early '80s, it has become not just one of Latin America's most politically and economically stable nations, but truly "a hidden gem . . ." (All Around This World's main Uruguay" page.)
This week in class we meet Uruguayan cowboys, exercising our imaginations as we spend a day with Uruguayan "gauchos," riding horses on the open plains. (more)
This week in class we sing:
-- "Bambo du Bambu" is a samba for kids from Brazil. The original is an embolada, a fast-paced, often-improvised song style popular in northeastern Brazil in which vocalists challenge each other, competing lightly based on verbal and vocal ability.... (more)
-- We sing "We Are Happy," a hello song from Uganda, to open every All Around This World class. This week we greet each other in a dialect nicknamed, "Portuñol," a cross-border mix of Portuguese and Spanish.
-- "Este Torito" is a traditional Mexican song, most often performed by mariachis, about a journey to town and a stubborn bull.... (more)
-- A pião is a top that spins "en la roda," in a round space. In our "O Pião" not only do we spin, but we also fly and hop and swim.... (more)
-- "Niño Colla" is a Spanish song about a boy from the Coya (Kolla) community of Northern Argentina who, living alone on his little ranch, sets off with his friends on a walk up into the hills.... (more)
A Little More
Candombe is Afro-Uruguayan music that originated with African slaves who arrived in Uruguay starting in the mid 1700s. In the early 1800s the Uruguayan government tried to ban the genre, fearing the cultural expression would lead to insurrection, but by the mid 1800s when Uruguay abolished slavery, African dancing had become an inextricable part of Uruguayan culture. Watch two iterations of candombe here – first, street drumming with roots in the genre's past: and a more contemporary take brought to you by candombe great Hugo Fattoruso:
Enjoy!
Complete and Continue