Overivew: Fiji
Oceania and the Pacific Islands: Fiji and a Meke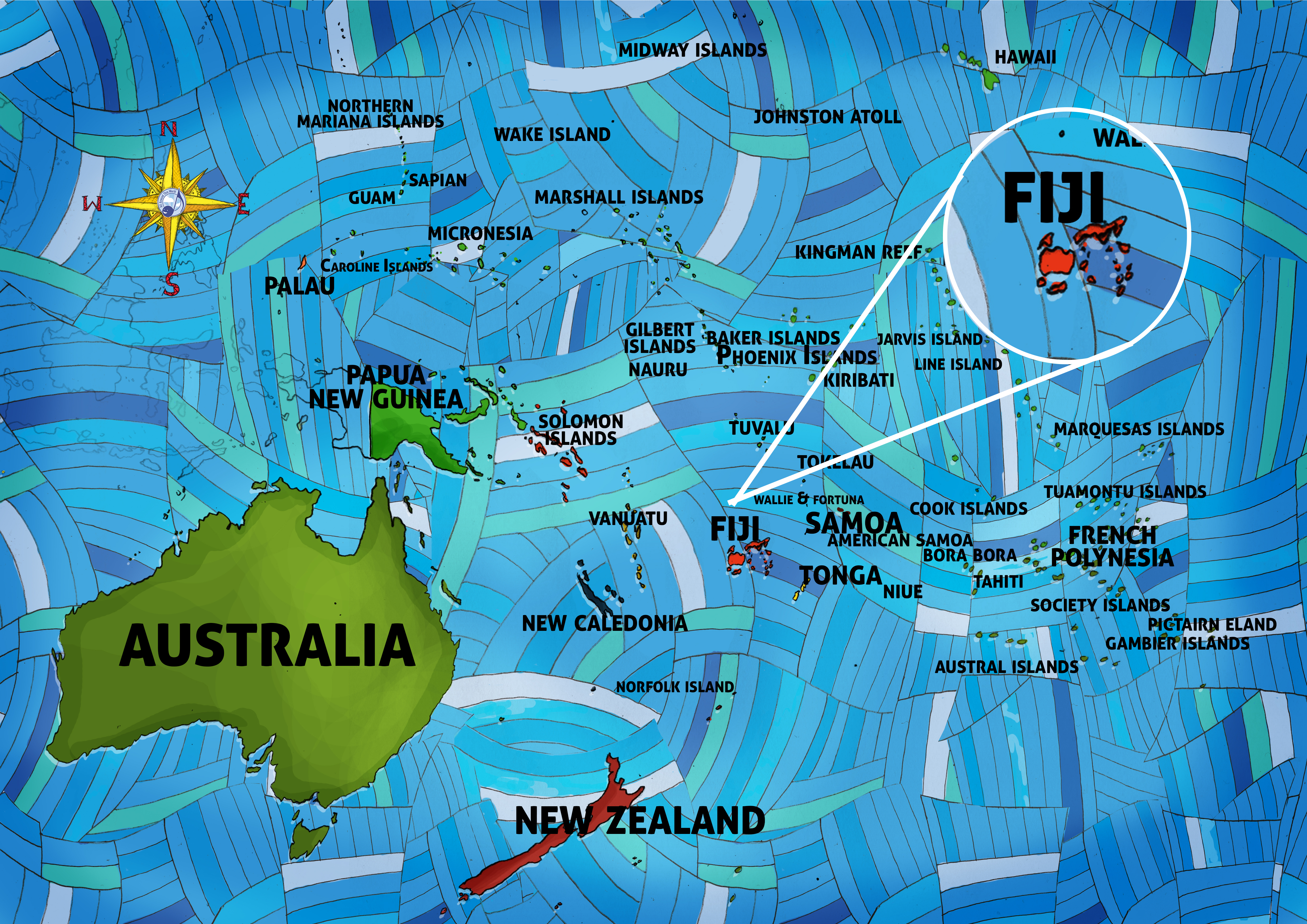 This week we dive headfirst into the Pacific/Oceanic island group known as Melanesia. What is Melanesia? Good question. The answer...? Depends. I
f you're prone to think geographically, Melanesia consists of a group of about 2,000 islands that covers about 400,000 square miles, stretching from the easternmost points of Indonesia halfway across the Pacific to Fiji. (Look at this geographic map of the Pacific from Jane's Oceania page to get a sense of where Melanesia fits. Then, just look at Jane's Melanesia page.) In this definition, cultural, linguistic and other non-physical distinctions aren't particularly important. If you look at Melanesia culturally or ethnographically you might focus on the fact that "Melanesia" comes from Greek, meaning, "black islands," with "black" referring most likely to the relatively dark skin color of the people who live there. In this view, Melanesia is a group of islands inhabited by "Melanesians"--people who share similar ancestral origins (having traveled a similar path from their origins in East Africa, and likely sharing similar genetics with each other, though not with Polynesians) and now speak related languages and share a similar "Melanesian" culture. 
In any definition, Melanesia includes a number of our very favorite island nations, or at least island nations that will become our favorite once we learn about them. For example, Fiji!   
There is disagreement among historians and archaeologists as to exactly when humans came to Fiji, though the general consensus is that people had arrived in the islands by about 1,500 B.C. 
There is agreement that two distinct groups settled Fiji; Melanesians, dark-skinned settlers who arrived in Fiji by way of Vanuatu, New Caledonia and the Solomon Islands, and lighter-skinned Lapita people, skilled navigators and fishers from New Caledonia who had originated in Southeast Asia's Malay Peninsula. 
Later, the Lapita people left Fiji for islands further east, seeding the Polynesian islands like Tonga and Samoa. The modern nation we call Fiji is an archipelago that consists of more than 330 islands, of which only about a third are inhabited. Most Fijians live on the two main islands, Vanua Levu and Viti Levu; because Viti Levu's interior is rugged most Fijians who call the island home live in the surprisingly urban Suva. 
This week in class we sing:
-- "Bula Maleya" is a beloved song in Fiji, written to express connection between Fijian and Malaysia troops during a British-mandated campaign. (More.)  
-- We sing "We Are Happy," a hello song from Uganda, to open every All Around This World class. This week we sing hello in Fijian -- BULA!
-- "Pokarekare Ana" is a Maori lament, a song sung by one love to another after they have had to part. (More.)  
-- "Wilmi Tulma" is a song we sing "backwards" – starting at the highest note and going low low low. (More.)  
-- "Kafa" is All Around This World's mashup of a melody that introduces pan pipe players in the Solomon Islands and a Vanuatuan drumming song, traditionally played along with the beating of bamboo poles. (More.)  
A LITTLE MORE:
Let's take this opportunity to learn some more about Fijian music.
-- Fijian folk music actually sounds more like Polynesian folk, so rich in vocal harmonies, than traditional music in other parts of Melanesia. Most Fijian folk uses guitars, ukeleles and mandolins, blending rich vocal harmonies with complex percussion performed on slit drums or "lali drums" which have long been used in Fijian culture to announce important events like births and deaths. [Listen to clips of Fijian folk from villages from compilations on FijiBure.com | Fijian lali drummers hit that drum hard]
-- Fijian string bands--groups of three or more performers playing guitar/ukelele/mandolin and singing in sweet multi-part harmony--are popular in the islands. 
-- In the 1980s Fijian pop stars such as Laisa Vulakoro popularized a style known as Vude, which according to National Geographic's world music pages, "combines disco, country and island music (especially the meke rhythm) and rock and roll." 
Indo-Fijian:
Indo-Fijian music is an exciting hybrid of, well, Indian and Fijian music. Most popular are Fijian "Bhajans," which are Hindu devotional songs that use Indian instruments such as the harmonium and the dholak. In Fiji, Qawaali music, Sufi devotional music that is especially popular in eastern Pakistan and northwestern India, has fused somewhat with the Bhajan because of a lack of trained tabla players who would otherwise accompany Qawaali. [Meet Fiji-born tabla player and, uniquely, simultaneous ghazal singer, Cassius Khan | Become a Facebook fan of Fiji-born dholak player Sashi Roy, who plays multiple dholaks at the same time tuned to different notes, a style known as "dholak tarang." | Enjoy a Fijian Bhajan competition between your favorite Fijian Bhajan performers, Umesh Chand Sharma and Master Shiu Dayal Sharma] 
Enjoy!
Jay
Complete and Continue