Overview: Let's Meet Haiti
The Caribbean -- Haiti (and Rara!)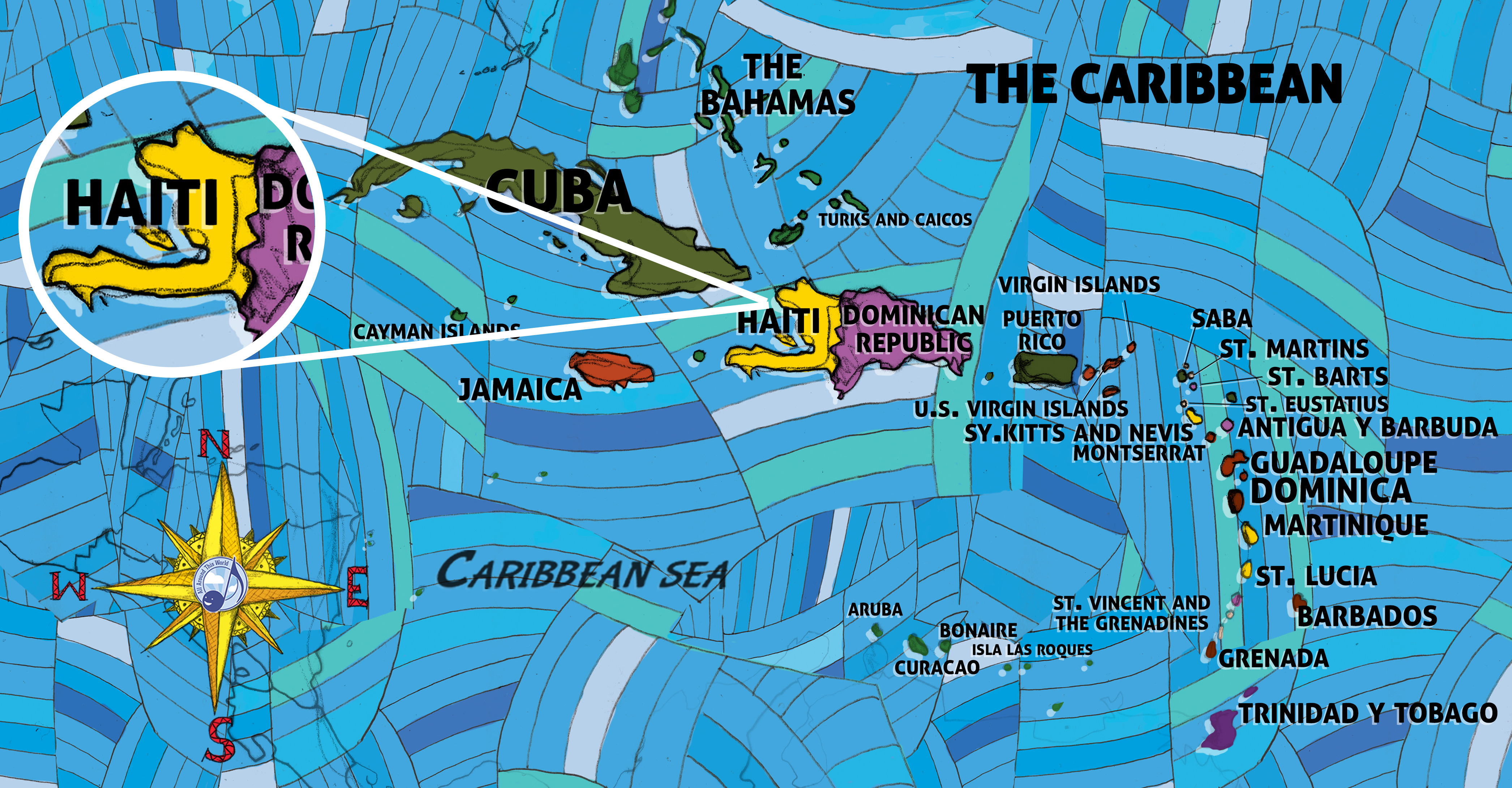 Haiti is a small country in the Caribbean with a proud rebellious streak and a terribly troubled past. This small former Spanish and then French colony, which shares an island called Hispaniola with the Domincan Republic, has a challenging history full of colonial manipulation, inspiring independence following an unprecedented slave rebellion (1791-1804), devastating environmental catastrophes, deep political failure, and, through it all, the ability of a resilient people to survive.
For almost several decades (1957-1986) members of Duvalier family ruled Haiti -- first "Papa" Doc, then his son, "Baby" Doc. Since then Haiti has endured several presidential transitions and intermittent military coups, some with U.S. support and some without. Throughout this chaos the astoundingly resilient Haitian people have become collectively poorer and poorer; a substantial number of educated Haitians have fled the nation. When a 7.0 magnitude earthquake hit Haiti on January 12, 2010, it devastated a nation that has struggled so hard to stay hopeful despite having already survived devastation time and time again.
This week in class we have hope for Haiti as we sing:
-- We sing "We Are Happy," a hello song from Uganda, to open every All Around This World class. This week we sing hello in Haitian Creole -- BONJOU!
-- "Petit Oiseau" is a French folk song, sung in Haiti, about a lilting little bird. (More.)
-- "Krapo Tingele" is a Haitian tale about a frog, a horse, and the woman they love. (More.)
-- "Angelique O" is a song from Haiti that seems, on the surface, to be about the poor treatment of a girl by a powerful family, but is actually much more. (More.)
-- "Loi Loo" is a Haitian play-along. Pay attention, watch my hands, then FREEZE! (More.)
A LITTLE MORE
Haitian "mizik rasin" -- "roots music" -- consciously fuses traditional Afro-Haitian voudon, popularly known as "voodoo," rhythms with modern forms of music like international hip-hop. (The music of the Fugees, featuring Haitian-born Wyclef Jean, especially resonates with Haitian youth.)
Boukman Eksperyans is a "mizik rasin" band that formed in the late '70s when Lolo Beaubrun and his wife Mimerose joined a Haitian spiritual community (a "vodou lakou-s") and founded a vodou-music study group called Moun Ife ("People of the Abode of the Deities"). The band's lyrics detailed the harsh living conditions in Haiti and called out the Haitian powers-that-be; its members fled the nation after the 1991 military coup overthrew Jean-Bertrand Aristide and lived in exile for many years.
The name "Boukman" references Dutty Boukman, a Haitian vodou priest who is generally agreed to have started the Haitian revolution in 1791. "Eksperyans" refers to the "Jimi Hendrix Experience."
Learn more about Boukman Eksperyans:
-- Boukman Eksperyans' website: "a musical revolution?"
-- Listen to a public radio report on Boukman Eksperyans checking in on them after the earthquake
-- Watch Boukman Eksperyans on YouTube: "Gran Bwa"
Complete and Continue